Adam – Store owner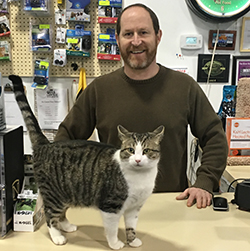 Originally from Sugarloaf now lives in Hawley, PA. Hobbies are playing ice hockey, golf and motorcycling. Adam has owned dogs and cats for 27 years. His dogs are Maggie and Bama and his cats are Madison, Lola, and Dexter.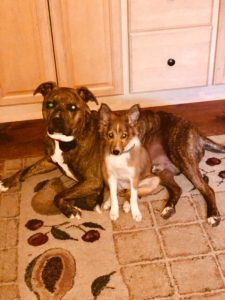 Sara, Store Manager
Sara is our store manager.  She has been with P&D on and off since 2004.  Sara holds a degree in Business Management from Kutztown University and has a lot of experience and product knowledge.    As you can see by her clan below, she has lots of experience with all sorts of furry friends.
Laura, Assistant Manager is always ready help you with a smile.  She has a lot of experience with all types of animals including studies in Veterinary and Biomedical Science at Penn State.  Laura came to us in 2018 from an unnamed big box store and loves the ability to give her customers the personal attention their pets deserve. Laura also moonlights as a pet sitter for select clients.    Shown here with her dog Jax!  
Kat, Assistant Manager  is our resident expert Designer and Merchandising Specialist.  Kat has been in the pet industry since 2009 and has a lot of experience including a degree from Penn Foster as a certified Vet Assistant.   Kat works tirelessly to make sure you are taken care of .   Here she is with her furry children Ellie and Graham.
Ashley – Weekend Associate   Ashley is studying to be a Nurse.  Seen here with her gaggle of furry friends, Ashley needs to work at a pet store just to afford to feed them.
Scott, warehouse & delivery Manager 

Scott does our receiving and deliveries to farm and Pocono Downs racetrack facilities.  He also an in house pond and water garden expert.  Scott is married to a local Veterinarian and has more pets than we can possibly post here!